There were times when expressing the intention of being a pilot as a female sounded absolutely ridiculous; it was a practical joke and an indirect way of displaying confusion and uncertainty of the "feminine purpose". There were also times when the thought of having a female pilot only lived in our imaginations. Gone are those days because today, South Sudanese's fly girls are gradually growing in numbers. The aviation sector is one of those that have experienced a striking twist in gender-acclaimed professions. Everybody seems to be doing every and anything they set their minds to, more so when they have a potential and outstanding skill to be great in that line of profession. Today, women are
just as much adventurous as men are.
1. Aluel Bol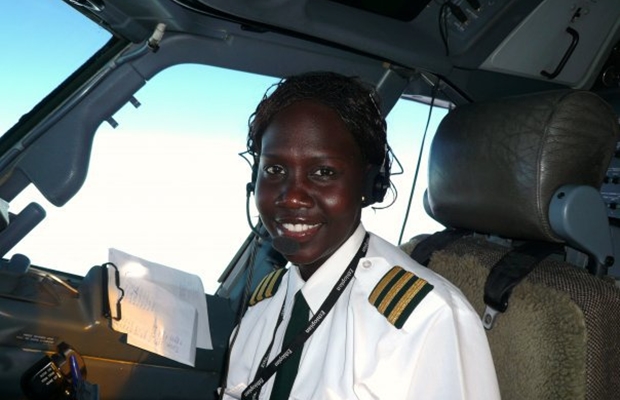 Aluel worked for Ethiopian Airlines, Fly Dubai and for Delta Airline. She is the first female South Sudanese commercial pilot, currently flying a Boeing 737. With her family, she left home and became a refugee in Kenya and later fled to the United States where she spent most of her life. As a teenager, she made attempts in the field of modeling and fashion but it didn't seem to be her calling. Today she has added to the number of growing female pilots in Africa. Aluel traded her business management course for aeronautics but still
has an active business sense.
2. Amel Ajongo
Just recently, Amel Ajongo became South Sudan's second female pilot at 20-years-old after completing her studies at an aviation school in Kenya. She is a daughter to the late General James Ajongo Mawut, the former SPLA chief of staff. Furthermore, she was the only woman in her class even after it had started with 8 women in a class of 11.
She has also encouraged other women not to limit themselves and to work hard to achieve their set goals
3. Grace Toby Martirio
A Grace Toby Martirio is a mother of one who has defied all the odds to graduate and become a pilot. She studied in Kenya.
4. Amer Majak
Amer Majak is a 26-year-old mother of 3 who was born in Sudan and moved to Australia in 2003. She is the first female South Sudanese Australian to become a pilot in Australia. She is been involved actively in community work both in Australia and South Sudan.